"I feel very fortunate to have found Tania for the birth of my second child. It was such an empowering experience, and I would not have done it without someone I felt safe with. The birth was magical. I felt completely confident that she was monitoring for safety so I could relax and be present and calm for the labor, birth and postpartum bonding.
Tania was knowledgeable, professional, and very respectful of my choices. She provided information about options without bias. She was consistently available for the smallest questions and concerns which is helpful as an anxious pregnant lady, and was readily available postpartum by text, phone and to meet. She somehow seemed to know when I needed more support even at times when I didn't realize I needed it.
She was lovey with my toddler, making home visits before and after the birth comfortable and so easy. She was also helpful and knowledgeable in supporting us to plan for and integrate our new baby with his older sibling.
I would recommend Tania for anyone planning for or curious to learn more about home birth."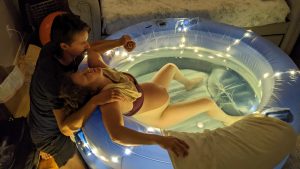 "Having found Tania was a great blessing for myself, my partner and our first born! Our experience with Tania and the structure of being seen by a midwife versus the conventional OB/Dr. route, felt organic and comforting from the very beginning. Our appointments were always informative for us as soon to be new parents, and we always felt like we had Tania's full attention – she truely cared about us and our wishes throughout my whole pregnancy. When labor started, I was so grateful to have Tania by my side – her expansive knowledge and kind and caring nature put me at ease and I knew I could trust her fully which was paramount. Beyond prenatal care + the birth, post partum care impressed me the most! Tania continued to give us (our brand new little family) much more attentive care than I ever could have imagined and I am thankful for that as it helped this new mama heal up quickly! We love Tania so much and would highly encourage all expecting mamas to not only give a natural homebirth a shot, but to also do it with Tania!! :D"
– Dylan 2022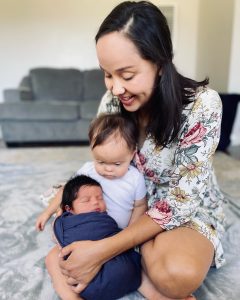 "Upon meeting Tania, we instantly knew that she was the midwife we needed. After a difficult first birth we knew with our second child that we needed to feel safe, heard and clearly communicated with. Tania did all of this and so much more. From every prenatal appointment, to the labor and then the postpartum period, Tania was knowledgeable, calm, and caring. The experience of a home birth with her was incredibly healing. If you are looking to have a home birth, Tania is an excellent choice."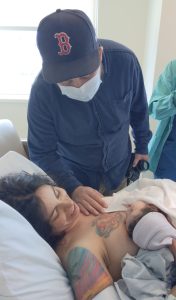 "When I found out I was pregnant, I initially visited a doctor through my insurance plan, and those first OB visits verified my hunch that a midwife would be a better option for me. I interviewed a handful of local practitioners and, after discussing our options with my partner, we decided to work with Tania.
Tania clearly knows her stuff and I never once doubted her ability to provide safe, knowledgeable, and practical care throughout my pregnancy while also being warm, personable, and down-to-earth. I have the tendency to worry about anything and everything, but Tania always managed to talk through any of my concerns, providing information and guidance without pushing her personal viewpoints on me; I was always able to make my own decisions without fearing judgment or criticism. 
Tania helped make my pregnancy and birth experience one of joy, comfort, and confidence. She went above and beyond at every step along the way, from how she handled my health concerns, to her habit of asking for consent before any procedure involving touch, to the handmade hat she gifted to our baby after birth. My partner appreciated that Tania always made him feel comfortable and involved as well. We would recommend Tania to anyone looking for a competent and caring midwife to walk with them on their journey to parenthood."
                                                                                                                                                    – Lisa, Johnny, and Emily Lana 2022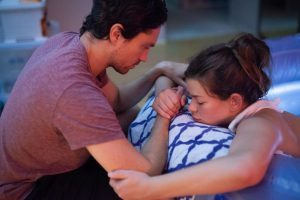 "Our pregnancy journey with Tania allowed us to make informed decisions every step of the way. One thing that stood out and was important to us is that Tania has passion and a calling for this work, you could say she was made for this, to usher precious humans into this world. She is knowledgeable, compassionate, intelligent, and a wonderful presence. She honors every aspect of this unique journey and is right there with you each step of the way. She is intentional and prepared. I was with her from my first trimester till 6 weeks postpartum. I love the relationship I developed with her and appreciate all she did for my family which was above and beyond her "job description". She will always have a place in our family's hearts. We need practitioners of all modalities to be more like Tania."
                                                                                                                                                                                 – Danny & Tassia, 2021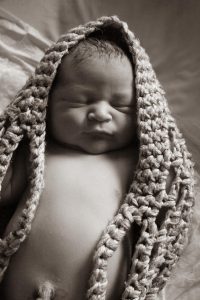 "Tania has such a calming energy while also being very confident, warm, reassuring & competent. When I met her there was an instant connection & comfort & I knew she was the one. She knows her stuff & will guide you properly.
She never once just told me what I wanted to hear, she was always very clear as to what we were doing and why.  She was always very conscientious of and open to any thoughts, concerns, ideas, feelings or desires & needs my husband or I had. She worked with us proficiently to make sure we were all happy,  healthy, safe & confident.
The home birth experience is a stark contrast to the hospital experience.  Being able to labor in the comfort of your own home and having the freedom to move and be in whatever position feels right and comfortable at that moment was invaluable.  The low stress and peaceful environment made birth that much more enjoyable.
She brought two other midwives with her and they were an amazing trio! I couldn't have asked for better care. They all went above and beyond and we're so considerate the entire time.  They stayed after the birth & made sure we were stable & comfortable in bed and and discussed with my husband what the plan was until she returned the next day. Tania also helped me shower and get cleaned up. I was thinking I had some cleanup to do from the birth and boy was I shocked to find that these amazing ladies had also done the laundry, & cleaned up everything used for the birth. It was cleaner when they left then when they arrived. What peace of mind to give a mama, that was one less thing I had to do.
It was an AMAZING experience that was guided by an AMAZING woman.  Thank you again Tania!"
                                                                                                                                                                                                                                            – Missy, 2021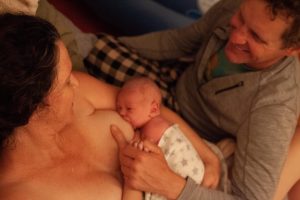 "When I found out I was pregnant with our second baby, I was initially unsure whether I wanted to do a hospital birth again or try a homebirth. I talked with a friend who had just birthed her second child at home with Tania and she had wonderful things to say about the experience. I was particularly nervous about a homebirth because my first labor was three days long and my there is no way I could have gotten through it without an epidural. I shared this with Tania and she listened compassionately and reminded me that every birth is different. She gently suggested a book to read and as I made my way through it, I started to feel more confident and excited about birthing at home.
As with my first baby, my second was posterior (facing outward or "sunny side up") which made my labor really hard. When my confidence faltered during labor and I started to feel scared and stuck like I felt with my first baby, Tania was solid and steady in her confidence in me. If she was ever worried about my labor or birth, I never knew it. She was encouraging and consistently reminding me of what amazing work I was doing. The other midwife that Tania selected to be at my birth had been a doula for over a decade and was an amazing coach when it came to pushing out a posterior baby. Tania and the other midwife were calm and soft-spoken and fierce advocates for whatever it was that I needed. At one point, I heard my dad in the other room expressing concern and I told Tania I didn't want to hear it. She calmly went out to talk with my parents and I didn't hear another peep. Tania was also wonderful with my older son and husband, integrating them into the experience beautifully.
Once little Cedar was in the world, they gently, calmly and softly began their work of ensuring his health and getting me to a comfortable resting position to nurse him. They stayed for several hours after birth to ensure I was tucked into bed with the baby, then cleaned up everything and let themselves out in the wee hours of the morning. Together they were an amazing team that supported me in doing the hardest thing I've ever done in my life."
The true magic of working with Tania was that she always reminded me that I am the expert and final authority on my body. It was extremely empowering and fulfilling.
– Stephanie, 2021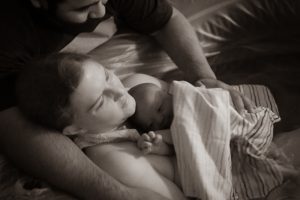 "Growing up I would watch home birth videos with my mother on T.V. and I would always think wow that is amazing but never thought I could actually do that at home. My family always had births at the hospital. But, with my second child, I looked into it and would read painfreebirth, a doula, who inspired me to reach out and do this. A few weeks before my due date, my OBGYN insisted that I should have an epidural when I wanted to try all natural. I felt like there was no medical freedom, just pressure to do what they wanted me to do. So I googled a midwife near Redlands and the first name that popped up was Tania McCracken and her sweet smile. And I said, I will text her and see how much she charges (in my mind I did not think I could afford it but it turned out I could)!
Tania is such a patient and beautiful soul. She was my advocate! She did not pressure anything on me or my child that I did not want. She gave me all of the information, informed consent, and answered all of my questions. She helped my iron levels by switching me to a supplement that my body absorbs better and I was able to have a home birth after taking it, my iron levels went up. The hospital experience with my first, I wish I could say it was a good one, but it was not. The home water birth, the prenatal care and postpartum care I received was of the highest quality of patient care. Honestly, I was highly impressed and I am an RN. I received one on one patient care, with homeopathic remedies that were homemade and worked well! Tania was such a blessing to me throughout the whole process. She let me push when I felt like I needed to and in any position (which, after research, was a dream of mine) and allowed my husband to catch the baby. The whole experience was so amazing and I will cherish it forever, it was worth every penny. It exceeded my expectations! "
– Carissa, 2021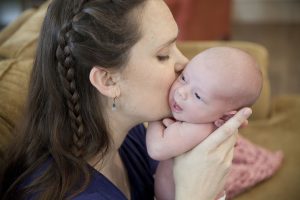 "I had always wanted to do a homebirth. After my first two, which thankfully had uncomplicated, unmedicated hospital births, we decided to have our third at home. The prenatal experience was drastically different from the hospital. With Tania there was no rush, no battery of exams that I didn't understand or didn't necessarily need. She took time to get to know us, answer our questions, and empower us to be able to monitor the baby and my health from home. Labor was also different. It was amazing to let birth progress at home with my family around and whatever comforts I wanted, without having to get in a car and rush to the hospital as if there were a medical emergency. She helped me monitor my early labor, and once we knew my labor was active, she arrived within a half an hour. I had a waterbirth and really enjoyed the comfort it brought. Don't get me wrong, it was still labor! But whenever I lifted out of the water I felt my pain intensify, so I stayed in my little birthing pool and they put in hot water whenever needed. 
It was incredible to have my kids there with their grandma. They came and gave me kisses at the start of labor, and I had them come in the room as soon as the baby was out. They love their little brother and are very bonded with him, especially having been part of his birth. My husband loved the whole experience too. Tania and her team did all the cleanup, and Grandma was on hand to hold the baby while my husband helped me. It was comforting that our baby was always in our care and we didn't have to send him away for his exams. I am so grateful God gave us this wonderful birth experience, that these precious memories are in our own home, and everyone got to be part of it."
– Rachel, 2020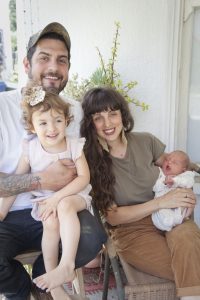 "When I became pregnant with my first daughter I could not imagine giving birth anywhere but home. It just felt so natural and right, and luckily my husband was on board 100%! Tania was the first midwife we interviewed. She encouraged us to meet with other midwives as well before making our decision, but as we walked from her home to our car my husband and I both knew she was the one. I am the first in my immediate family to have a home birth which made family members nervous and unsupportive. Thanks to Tania we felt educated and empowered to address all of their questions and concerns, and not get discouraged.
Appointments with Tania were so fun! She is so professional, knowledgeable, and encouraging. Tania was thorough and attentive to both the baby and myself. I appreciated that Tania always remained neutral and supported and respected whatever choices my husband and I made. The appointments never felt rushed, and my husband always felt involved and included. When I was pregnant with my second daughter my oldest was also included and it was such a privilege to have her with me and be hands on! It really helped her prepare for her new role as big sister and I think it is a big part of why my girls have a special bond already.
I can not say enough about my two water birth experiences! Tania has such a confident, calm and nurturing presence which was so helpful for me during birth. We could not believe how quick and efficient Tania and her team were when it came to the clean up. They made sure we were fed, hydrated and cozy in bed before they left. We felt so pampered!
Tania's postpartum care kit is wonderful and the supplies work like magic. What a treat to have postpartum in home care! Tania is very gentle and loving with babies and it was a treat to see my girls handled so delicately. I am so glad I agreed to have Tania take photos for us. She is so talented and the birth photos are something I will treasure. Tania will always hold a special place my heart, and I can not think of a better person to have been part of two important and meaningful events of my life. Home birth was an absolute blessing!"
– Chelsea Strunk, 2020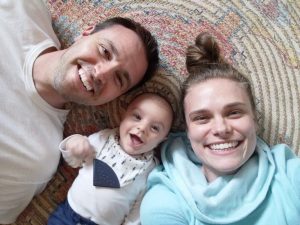 "I really cannot stop telling everyone about the incredible experience I had with Tania. My spouse and I knew we wanted a home birth but were a little nervous because this was our first pregnancy, so finding someone we felt comfortable with was crucial. We met Tania after meeting several other midwives, and within 30 seconds I knew she was the one. She exuded warmth, calmness, and compassion upon meeting her, and over the course of the pregnancy we also came to know her as highly knowledgable, an empathetic listener, and a fun person! She always answered our questions honestly and reassured us whenever we had concerns. I was amazed at our hour-plus appointments, filled with care and laughs – a stark contrast to the cold and rushed 5 minute appointments I had with my OB. She always waited for my consent before physically examining me and the baby – another stark contrast to my experience with the doctor's office. 
She never faltered in her attentiveness or care during the birth, despite it being 29 hours long. She even called in other midwives who had varying expertise that she felt could help me, like labor massage! At some level I knew how valuable her care would be throughout the pregnancy and the birth, but to my surprise (and immense gratitude!) it didn't end there. She came to us for postnatal care, connected us with a mother-centered postpartum care specialist for my healing, provided safe and effective herbal remedies to promote repair, helped us solve breastfeeding issues, checked in with us on a daily basis, helped us with our son's tongue-tie, and even brought us additional support when we faced some truly difficult sleep issues with our new baby. I never knew just how much I needed her and her guidance until everything was said and done. 
Her caring and gentle demeanor, her consistent support, her considerable knowledge – all these qualities are what made our time with Tania so exceedingly wonderful. Her expertise came through in every moment she spent with us: her insightful philosophy and extensive training, her experience not only with the physical aspects of pregnancy and birth but also the emotional and mental, her attentiveness post-birth – she brought them all together to craft a luminous experience for me and my spouse as brand new parents and for our little one. I only wish every new mom could receive the Tania treatment!"
– Ashley, Parker and Sullivan, 2020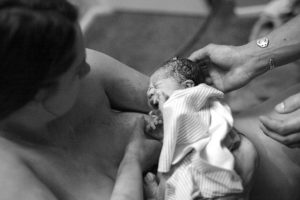 "Working with Tania was one of the best experiences in life and for sure the best choice for my birth. It was so nice to go to her home and not feel like I'm was an ill patient, but more like I was chatting with a friend. She always had the answers to my questions and helped me feel normal during the up and downs of pregnancy. She always gave me all the options and supported me in my decisions. She was very professional during all our appointments and especially during birth. She honored my requests and empowered me as a women/mother. Tania was great about including my husband during the whole process as well from answering his questions and supporting him.  Her team was amazing during the birth of my daughter and had everything cleaned up in just a short hours after the birth. It was so amazing to be in the comfort of my own home and crawl in bed with my new baby. Tania made this transition so peaceful and enjoyable. I felt so supported and empowered by Tania and I knew she was educated and professional. It was the blissful birth I dreamed about."
–  Melanie, 2020
"Tania is a deeply knowledgeable, highly skilled, and incredibly empathetic birth worker with whom I am lucky to have journeyed through two pregnancies with. As a mom with experience carrying pregnancies supported by OB care as well as midwifery care, I can easily say that midwifery is for me by far the more holistic and fulfilling model, one that addresses not only the physical elements of growing a baby, but also one that addresses the emotional, nutritional and spiritual needs of a mother. With her team I always felt heard, my questions were always addressed with thoughtful responses, and we always felt like we were safe and cared about from our first appointment, to the birth, to the postpartum visits that felt so vital in completing our journey together. I recommend Tania wholeheartedly and am grateful to have had the opportunity to birth with her. "
-Genevieve, 2019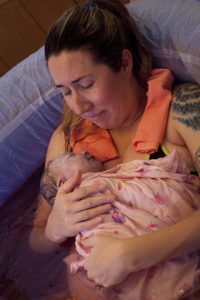 "Tania's calm and gentle demeanor makes her such a wonderful midwife. I had a lot of anxiety throughout my pregnancy and even more so postpartum but Tania was there to answer all my questions and put my mind at ease. She's very knowledgeable in all things pregnancy, birth, and postpartum. My husband and I felt very safe having her there for our home birth. She's very attentive but only as involved as you want her to be. She's wonderful!"
-Crystal, 2018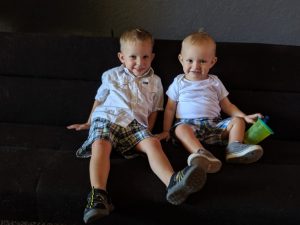 "A wonderful birth experience made possible by Tania, an amazing midwife! After we found Tania's website, I knew she'd be great to work with after reading her bio and noticing our shared interests. After our first meeting, I knew I wanted her involved in the birth of our second child. She is not only calm and laidback, but also professional and knowledgeable. My one year old and husband attended nearly every appointment and Tania was great with all of us. She had plenty of toys and patience to keep my son happy and occupied. She also reassured my husband, who is a firefighter paramedic. And most importantly, made me feel comfortable and at ease during the whole pregnancy. She has great assistants that I also felt very comfortable with.
On the big day, my husband, son, and I were actually planting trees in our yard! I felt the contractions coming in a pattern, so we cleaned up and called Tania. She came over, checked me, and soon thereafter I was in the pool giving birth to my second son. The five hours of labor went so smoothly and quickly, I couldn't believe it! Afterwards, I was able to shower in my own shower and rest with my baby in my own bed! It was incredible. Tania and her team cleaned everything up and made sure everyone was comfortable and at ease before they left.
I truly believe in midwives and home birth. We had a team of midwives at a birth center for my first son, but they transferred me to a doctor and hospital where I was induced a week early because they thought my son was no longer thriving in the womb. It still saddens me that it ended up that way. The hospital and nurses were great, but it was night and day compared to a home birth. Having one midwife care for me the whole time instead of being shuffled around between three was huge. Tania knew how everything was progressing and I never got the feeling that she was looking up my info on a chart just before I walked in the door. She made me feel completely at ease the whole time. I only wish that I had found her sooner so I could have had my first son at home with her.
I believe that pregnancy and the birth experience affects the child. I can see a huge difference between my two boys. The first is sensitive and moody, while the second is generally happy and healthy. I think a lot has to do with the anxiety and stress I felt during my first pregnancy versus the ease and confidence I felt during the second. Also, being forced into the world a week early with Pitocin versus my second coming when he was ready (40 hours of labor versus 5!).
Tania is incredible. I'm thankful every day for finding her and being able to have the birth I wanted for my second son. If I become pregnant again, she'll be the first person I call!"
-Holly Fletcher, 2018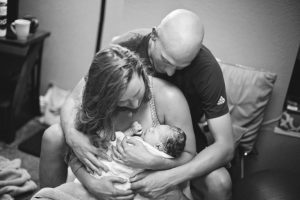 "One of the most important steps in pregnancy and birth is finding a care provider that respects the sacred process that it is. We interviewed three other midwives before finding Tania and instantly felt right at home when we met. She is the embodiment of what we love about midwifery care- personal, informative, professional, educational, inclusive and supportive. During the birth of my son Tania was the calm presence I needed. She was always there to offer encouraging advice and is incredibly knowledgeable about each step. The relationship Tania and I had was exactly what I was looking for in a midwife! She truly was the foundation of my amazing journey and I really couldn't be more grateful for our alignment during my pregnancy, birth and postpartum experience. You never forget the birth of your children and I love that Tania will forever be a part of my family because of those moments we shared in that beautiful and vulnerable process."
-Becky, 2017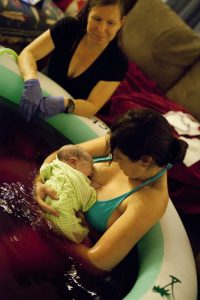 "Tania was the assistant midwife for my first birth, and after what felt like being torn down into nothing she was so helpful and made me feel so comfortable. It was something that pulled me to ask her to be my midwife when I was pregnant with my second. I am glad I did, I always looked forward to my prenatal visits. My 2 year old even enjoyed some prenatal visits. There are a few tough decisions, at least for me, and I was amazed at how completely unbiased but informative Tania is. It's important for new parents to make decisions rather than just follow recommendations, so this was really powerful for me. I am also incredibly thankful for her photography skills, she took beautiful maternity as well as birth photos that I will forever cherish." 
-Lisa, 2017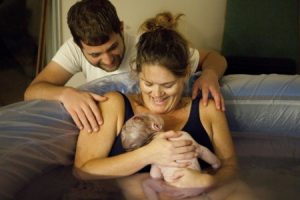 "From the initial 5 minutes of our very first meeting I felt comfortable and confident in Tania's care. I had spent the early months of pregnancy working within an HMO system and receiving prenatal care in a traditional medical setting. It is truly remarkable not just how much more personal the midwifery model of care is, but also how much more thorough it is. Tania spent time getting to know me, helped me select supplements, took the time to ask about my emotions, and even laughed at my husband's painfully cheesy jokes. She became a friend, therapist, care provider and incredible guide through my entire pregnancy. My labor was long, and tough, and I was so happy with the decision to experience it in the comfort of my own home and with the guidance of someone at once so kind and gentle but also confident and knowledgeable as Tania. She ensured that the baby and I were safe and that things were progressing normally, but otherwise allowed my husband and I to experience the beautiful process of birth mostly on our own. When it was time for her to jump in she was right there and she and her team took amazing care of my family before leaving us to rest comfortably in our own bed. I now cannot imagine the experience of giving birth any other way or with any better guide. Thank you Tania, we truly adore you."
– Katie and Corbin Stevens, 2016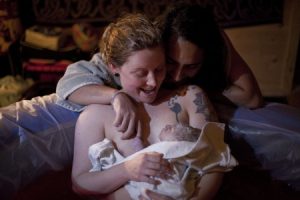 "From the moment my husband and I decided to start the journey into parenthood, we knew we wanted a home birth. Before we even conceived, I had reached out a few times to ask questions of our local midwives and the responses were less than friendly! As soon as we got that positive sign on the pregnancy test, I contacted Tania. Do you believe in love at first email response? I'm now a believer! I knew she was going to be our midwife, she didn't….but I did!
After our first meeting with her in her home, my husband and I were very confident in our choice. That confidence grew as the months passed by and we built a relationship with Tania. She always answered all of our questions, as silly as they were, with respect and we learned tons from her. When it came to tests for myself, as well as the baby, we weren't pressured to choose one way over the other. We asked for her input and then we were free to do/choose what we felt the most comfortable with. The whole midwife/home birth experience is truly tailored to you!
When the big day arrived, we were fully prepared and Tania helped us through all of it. Most of it was standing back and letting things unfold naturally – such a great approach. She knew when it was getting close to pushing time, needing an energy boost time, nap time….her intuitive grace filled our living room and we couldn't be any happier.
Our Indigo is now almost 4 months old and we can still reach out to Tania if we have any questions. Having her on our 'Baby Team' is comforting and priceless!"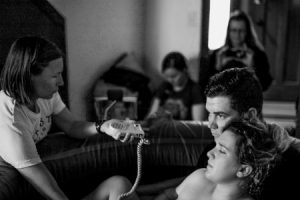 "In birth we lose the woman we have been…left to find the warrior mother within".
My husband and I welcomed our first child in the comfort and security of our home thanks to Tania. She was essential in me finding my way through pregnancy, birth & postpartum. Tania was what I personally had hoped for in a midwife. Her wisdom, vulnerability, patience, and support is something all midwives should work to achieve. And what was most important to me is her having confidence in my husband and I to achieve the birth experience we wanted. Because of my Husband and I both being EMT's, we desired to do the delivery ourselves. Tania gave us guidance and support when needed. And only jumped in when necessary. She also brought a sense of calm to our family and home. Because of this we had confidence in us. And in the end I was able to deliver our son into my husbands hands in our birth pool. Tania's continued support through postpartum has been much appreciated. Helping me to be open about postpartum depression and seeking help. A great support system is a huge part of your life line as a woman in all things motherhood. Tania is an amazing midwife, mother, woman, and friend. Thank you for your big heart Tania! We love you.
 – Sydney Latham, 2016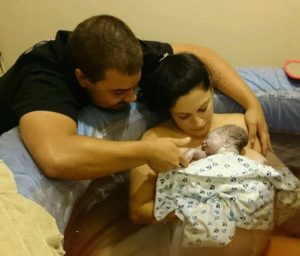 "The moment I stepped into our first appointment, I knew that we were going to continue on this journey together. I had already experienced my sister's first birth in a hospital and I knew that setting was not for me.
Tania became my maternity therapist. We would go through all of the important questions about my health, check on my son, and then the floodgates would open. Sometimes it was about my feelings, sometimes it was about other births I had seen, and sometimes it was just technical questions, but in the end I left with a sense of fulfillment and confidence. And if that confidence ever wavered, it was quickly restored by Tania's reassuring smile and empathy.
I had a severe illness during my pregnancy (not pregnancy related) and Tania was at my bedside in the ICU taking care of me. Her kindness overwhelmed me. I couldn't believe how lucky my baby was to have someone help deliver him that was so kind and intuitive.
When it came time for delivery, I had no hesitations. I felt no fear, and I dove head first into my labor and contractions. Tania had listened all that time. She hovered silently unless I needed her and let me deliver my baby. She let me complete this arduous and beautiful journey, just as I had set out to do.
But the icing on the cake of the whole process, for me, was the comfort and calm of being at home with my newborn. The complete trust between all four of us, husband, mother, midwife, and baby, that we had built over the last 36 weeks we all coming full circle, and I couldn't ask for anything more.
Tania's care actually inspires me to have another baby! But it has also opened my eyes to the necessity of shining the light on the information that we are not privy to as women. She makes me want to be a warrior for other women. And I'm so grateful for her coming into my life."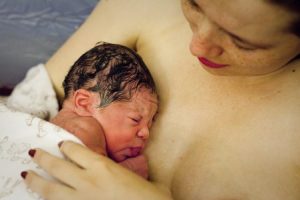 "I was fortunate to have done a lot of research on midwifery before I became pregnant, so that when it happened I didn't think twice about looking for a midwife, and my husband and I are so happy to have found Tania. It sounds like a silly statement, but she views birth as a normal process, and I think that is something we need to remind ourselves of in today's society. It seems very common to fear pregnancy and childbirth, and under Tania's care it all melts away. She treats it like the beautiful spiritual, mental and physical experience that it is, instead of just the physical. I tell people all the time that I wish I could be pregnant with and give birth to my son again, and they are always taken aback to hear that. I believe the care Tania gave me during my pregnancy was very key in what made my birth so easy, because she is non-judgemental, nurturing, attentive and understanding. I felt very safe with her and trusted that she could handle my birth. As a first-time mother I feel fortunate to say that my son was born four hours after my labor started, and there was so little pain I barely felt him come out. He was immediately placed on my chest, and she stayed for many more hours making sure that my son and I were healthy enough to leave, and continued to attend to us and make sure everything was going well for six weeks after. I am endlessly grateful for the entire experience from it's beginning to it's end. My husband and I are very dedicated to our son, and Tania helped both of us to bring him into this world as peacefully and happily as possible, and that's an immeasurable gift. I can't thank you enough Tania!"
– Amanda, 2015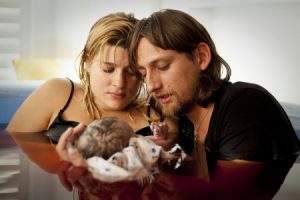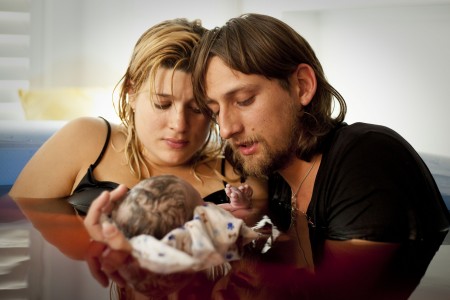 "Shortly after I learned I was pregnant with my son, I immersed myself in research. Naturally, I was in search of the right path for me and for my husband to bring our child into this world. I quickly became inclined to search for a midwife, as I felt strongly about a natural at-home water birth. I contacted Tania, and the very first time my husband and I met her, we knew instantly that she was right for us. We fell in love with her and the relaxing atmosphere she provided for us. We immediately felt comfortable and confident about the journey ahead of us. Tania was very thorough and informative, while at the same time, always encouraging us to do our own research, as responsible parents should do. She guided us so gracefully through each stage of our pregnancy and addressed all of our questions and concerns along the way. When the time came to deliver my son, Tania was immensely supportive and gentle throughout the entire labor and delivery. She was constantly encouraging to me and to my husband as we labored together. And although my labor and delivery experience was both challenging and lengthy, Tania reassured me and comforted me throughout the entire process. She never wavered. After 38 hours of active labor, Tania helped us welcome our firstborn son, Maximo Negev Colombo, into this world in the most beautiful and peaceful way possible. We thoroughly enjoyed our experience, and we deeply treasure our relationship with Tania. So much so, that she was the first to receive the news of our second child, whom we will be expecting in April 2016. We look forward to another truly magical journey with Tania as we prepare to welcome our second child into this world." 
– Gina Colombo, 2015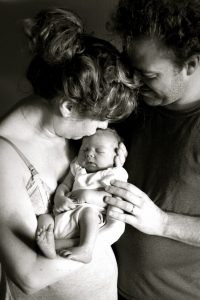 "When my husband and I came to see Tania we knew pretty quickly in our discussions that we were very much on the same page about how we feel about childbirth, and that made our decision to go with her very easy and comforting.  We really appreciated the fact that we knew who would be delivering our baby if all went normally.  We wanted a natural and calm birth, and Tania has a very nurturing and assuring way about her.  Fortunately we were able to have our ideal birth experience, and Tania helped me as a first time mother believe in myself even in moments when I didn't, and I found myself looking to her for comfort and reassurance, something doctors simply don't do for you.  She never rushed our appointments, and always made sure all of our questions were answered.  I can never describe in words what it was like to deliver my baby boy in the comfort of my bedroom and feeling the triumph of making it through labor naturally.  I held him in my arms with the peace of knowing we were in good hands and that short of an emergency, Tania would be able to handle all the other medical necessities.  I couldn't have asked for better."
– Maria S., 2014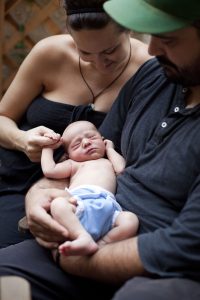 "When we think of Tania, we think of the gift she was for us in our time of need. We met Tania six months into our pregnancy after our original midwife was unable to attend our birth for personal reasons. We are so grateful for the people who strongly recommended Tania to us. After the initial interview, we were confident in Tania's skill and honesty. Little did we know that with every prenatal visit, a connection was growing and our trust in her knowledge and compassion was deepening. We were first time parents having a home birth and Tania was exactly what we needed. She was a steady hand in times of chaos, encouraging in times of self-doubt, and a calming aura in a house full of loons. During 49 hours of labor, I knew I could have my baby at home. It was Tania's instincts and patience that allowed me to do so. Tania's level of care and compassion for us, and our son was above anything we had ever anticipated. Our experience with Tania was more than extraordinary. We plan on having our next child with Tania and look forward to being in her care again."
– Adriane and Jordan Garbayo, 2013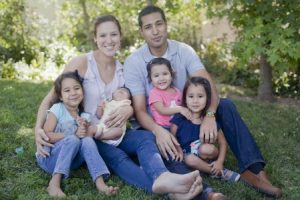 "I have had the wonderful opportunity to experience birth at a birth center, a traditional hospital and now at home with a midwife.  The care I received from Tania during pregnancy and labor was delivered with compassion and love.  Her extensive knowledge of midwifery care is astounding and I have never felt safer in any other birth setting.  Through my pregnancy she cared for me, taught me, prepared me and encouraged me. But not just me, lovingly she opened her arms to my husband and 3 children and helped prepare them as well. That was what was most important to me as we experienced the entire pregnancy from check ups through labor to the final birth of our baby Joy. Having Tania as my midwife was incredible and I will choose her again if we have a 5th child. I am looking forward to it."
– Natalee Estrada, 2013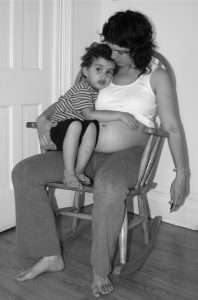 "Having a baby is the most wonderful experience a women can have, and gentle prenatal care and birth ends that experience sweetly. When I discovered I was going to have my second baby I knew I did not want to have her at the hospital like I did with my first baby. Finding a midwife was the first step to get the natural care and childbirth I was looking for and Tania filled that profile neatly: wise, professional, responsible, friendly, supportive and very gentle. My second and third babies have been received by the hands of Tania and both experiences have been wonderful. She gave me the security I needed and supported me throughout. By having two opposite experiences: my first baby at the hospital and my second and third with Tania, I definitely know that the second way helps the mother to feel more relaxed and secure by being surrounded by a familiar face in a warm environment making for a happy mother and baby. Thanks Tania for creating beautiful memories of my childrens' births."
– Lizette Vazquez, 2010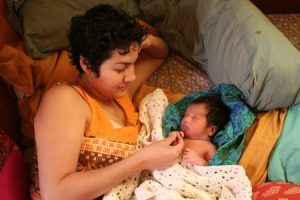 "Tania was my midwife for my first pregnancy and I feel completely impressed and content about the care she provided.  I truly feel like I got the midwifery experience I desired.   Tania is passionate about the power of midwifery care, and I know the care she provided my family changed our lives. At our prenatal appointments she was very attentive and intuitive. She knew how to meet me where I was at. I appreciated  her direct, honest style of communication. Nothing I shared with her shocked her and I quickly felt like we formed a trusting relationship where I felt unconditionally loved and supported. To me, Tania has the perfect balance of being detail oriented and laid back. She educated me about my choices and supported my decisions.  I felt well cared for and safe.  When I went into labor Tania brought the perfect amount of energy in to the room. One vivid memory I have about birthing  that will stay with me forever, was when I was pushing. The feeling of my daughter crowing was so intense and I looked up and made eye contact with Tania, I had the feeling of safety came through me, and I believe that the trust I had with my midwife provided me with the space and freedom to birth my daughter in the most beautiful way. I have nothing but gratitude for the experience I had in Tania's care."
– Andrea Ruizquez, 2010